49005 Vacheron Constantin Perpetual Calendar Chronograph
In the latter portion of my formative years, the three apes of Top Gear invented a phrase that has since fallen by the wayside, but is one I find quite useful: 'MFB', short for mother-f*cking Bentley. This was a slightly more nuanced point than it seemed at face value. At that point in time, Bentley had produced so many endless and boring variants of the Continental that most were a bit vanilla. But then the newest revamped one was actually surprisingly great: heavier, faster, more dead cow and amazon luxury inside. To distinguish from what had come before, the term MFB was invented to separate Bentleys with a bar-brawling 'MF' attitude. Not that VC make a boring watch at all, but they were at a peak in the early 90s for complication and beauty. This is a ref. 49005, a 38mm highly complicated beast from early 90s VC, and I'd like to suggest that it isn't a VC at all. Made in 300 examples and weighing in at 106 grams in platinum, it carries the attitude of a MFVC, more than most.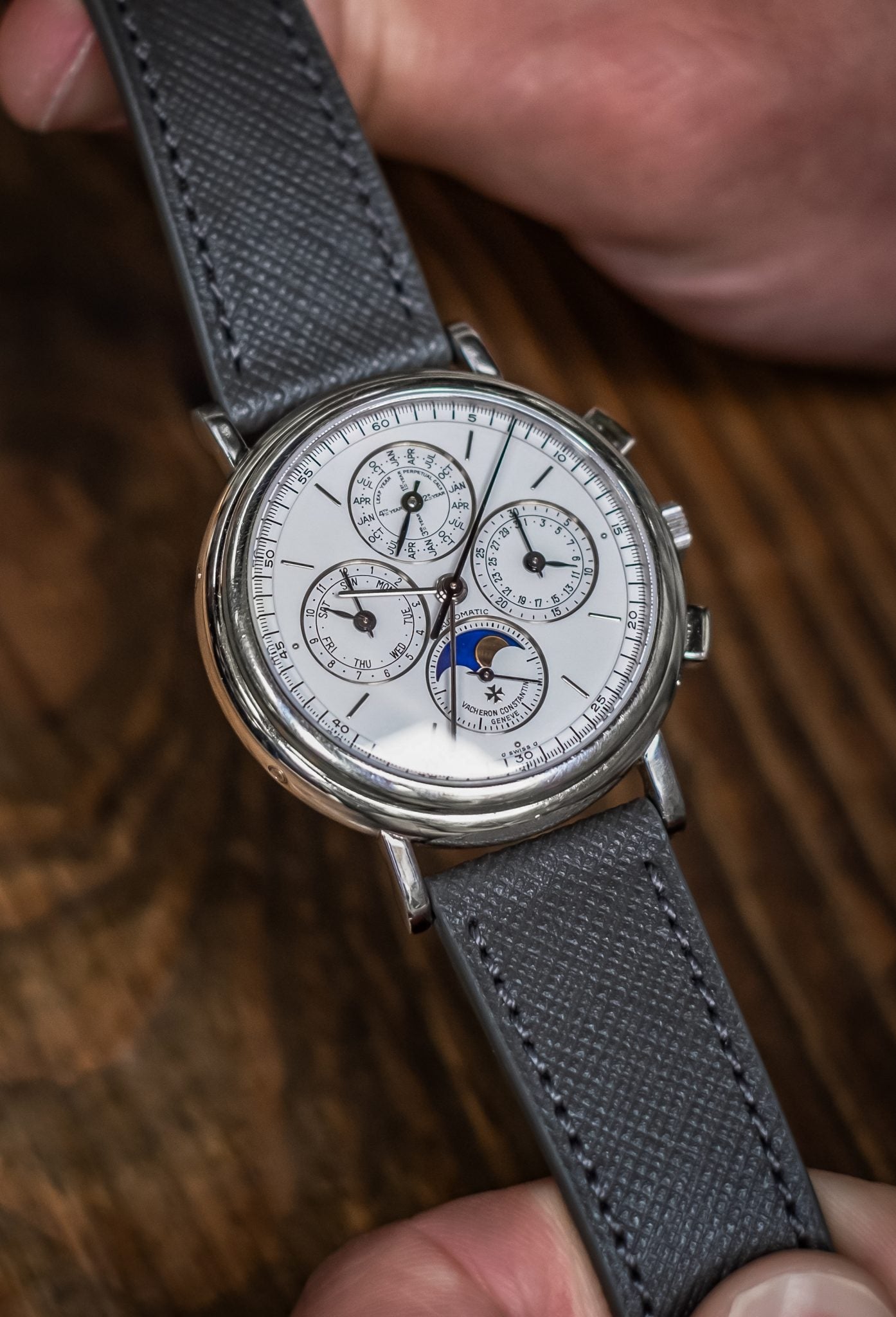 Launched at the peak of neo-vintage that was 1992, this was a full perpetual calendar chronograph ready to rival a 3970. The calibre is an amalgamation of the Frederic Piguet calibre 1185 column-wheel chronograph with VC's own perpetual calendar works stacked. That means you get the same beautifully detailed four-year leap indication at the 12 subdial as the 43031, with stacked hand calendar functions at 9 and stacked chronograph functions at 3. Most of the 300 were made in this platinum and white dial, but you'll find production in pink and yellow gold as well, with 35 salmon dials in platinum and a handful in black guilloché.
Far better, though, is the immense presence this thing has on wrist. Everyone knows what a 3970 looks like. Even the Datograph Perpetual, most of us could clock it. It is the particularly obsessed type of individual who could point and say 49005. To most, it's just a very complicated, gorgeous, but unknown quantity, a bit like Cara Delevingne wearing sunglasses that cover her eyebrows. The first time you see one, you're not quite sure if you know what you're looking at or not, but it's still a 10 either way. I now feel compelled to assemble a stringent definition for just what is and isn't a MFVC. We'll start with this as the archetypal example. What else?
This example is in excellent overall condition, with light wear on the case and a tiny nick at 6 on the bezel that's almost not noticeable. The dial shows no damage. Interestingly, the seller notes the lower right lug has a bit of deviation, almost angled out ever so slightly. It's honestly hard to spot in the photography but I'll take his word for it. It comes from a well-regarded retailer out of London who specializes in a bit of neo-vintage, with Extract of Archive.