46003 Vacheron Constantin 222 in Yellow Gold
Every damn time I spot an Overseas, I am reminded how desperately I need a 222 in my life. The oft-forgotten third musketeer in the original steel sports holy trinity, Vacheron's 222 has seen increasing limelight in the wake of recent 5711 madness. I cannot tell you how many times I've wanted to shout 'but what about the 222 or Overseas?!' into the ether whilst reading those Nautilus and Royal Oak grey-market-value articles that bore me senseless. Opposed to any Nautilus, which seems like absurd comparative value. This is particularly true of the precious metal 222, an opulent variation long-seen as ostentatious by the close minded. If any watch could evangelize the steel-only crowd toward precious metals, this Hysek-hit might be it.
Vacheron Constantin were last of the big three Swiss houses to debut their steel sports offering. AP had first mover advantage, but VC had the competitive advantage of being able to watch and learn. Commemorating the manufacture's 222nd anniversary, Jorg Hysek was tasked to pen an integrated sports offering. The case was super thin, harshly angular, hexagonal in theme, and serrated in detail. No porthole faff was to be found anywhere. Its design impression was VC to the core. The extreme proportions were made possible through a very thin yet bulletproof, JLC-based cal. 920. The 222 was produced in 37 & 34mm, with the midsize 34 (shown here). I particularly love the VC-cross case stamp just beneath its 5 marker, a divisive detail to say the least.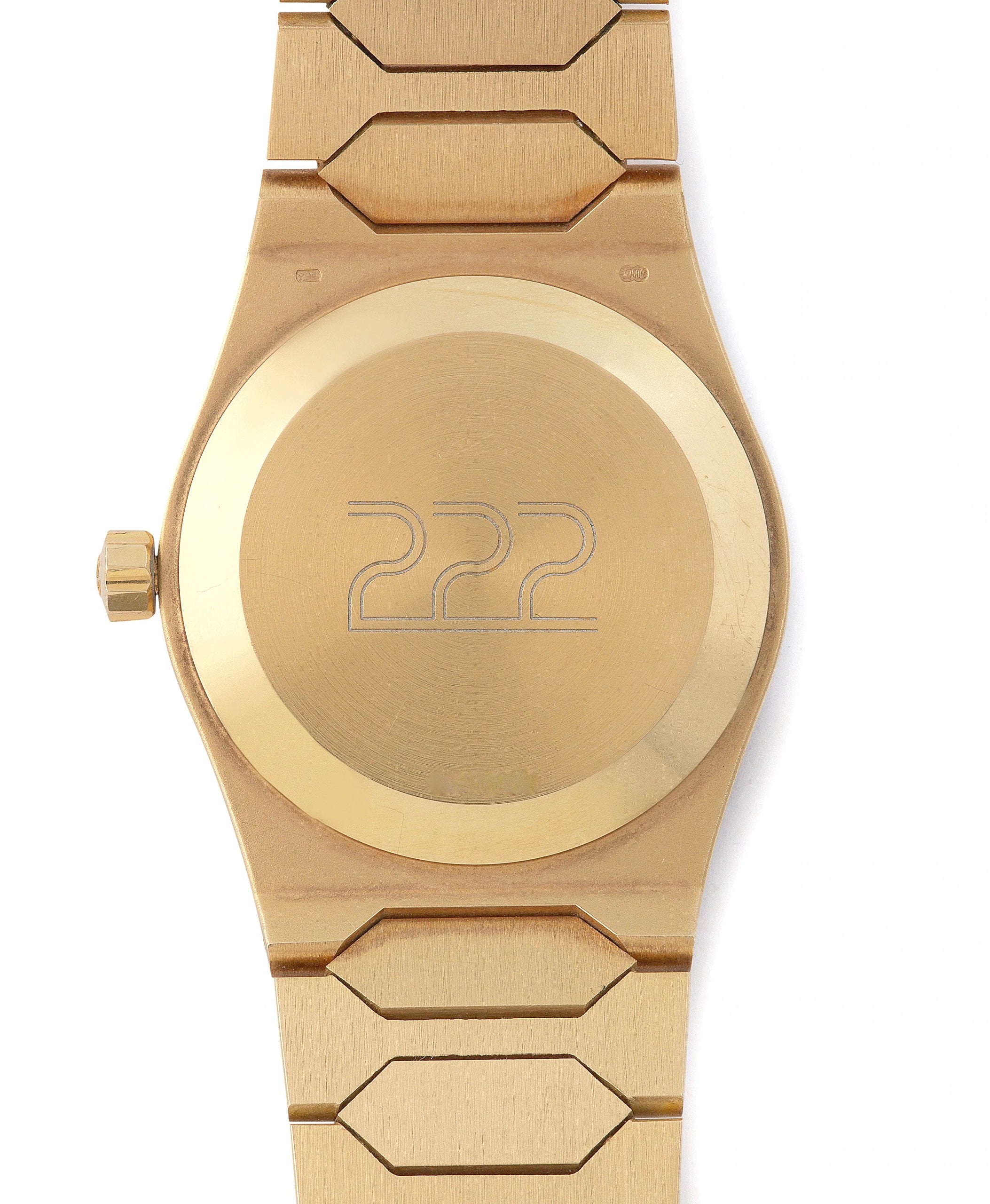 Interestingly, the midsized variant used an entirely different calibre, doing away with the 1121 for a something known as the 1124, a JLC 889-based ultra-thin whose rotor incorporated a 21K gold section for additional rotating mass. In both models, VC took care to match the date wheel to the dial finish, something other members of the holy trinity could stand to take notes from.
This example is in a very strong condition, with full case lines present and only light markings visible across the bracelet. The dial is perfect and the tritium in both its handset and pips is even, full, and matched. Nothing appears out of place. And that's as it should be, given this example comes from one of the best doing the thing.
Find this 222 here from ACM for 51500 GBP.