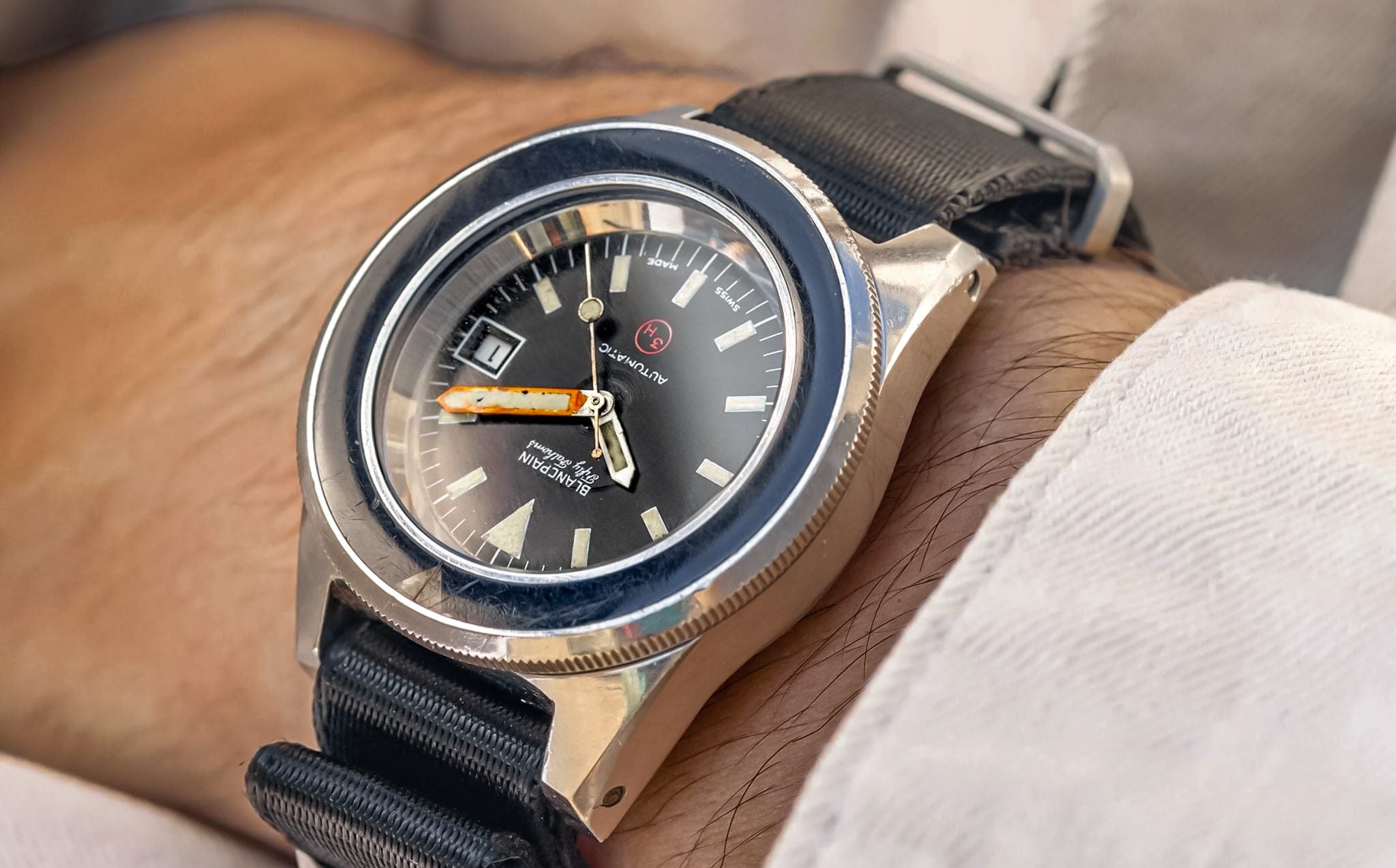 '3H Bund' Blancpain Fifty Fathoms
Veblen goods are those for which demand increases as price increases, breaking traditional economic models. If this does not compute, ask a guy named Philippe Dufour to explain it to you. But I'd like to suggest there's a similar but distinct phenomena in military watches. Usually, collectors uniformly aim for golden tritium, perfect razor cases, and unrestored dials. That is, except for issued military watches where each scratch, bash, and hand pinprick means the watch served its role as intended. Of course, there are collectors who want their military collection flawless as well. But I hold equal respect for those who wish to acquire these tool watches which have been through war, only to continue using them as intended. This is one for that latter sort of collector.
This '3H Bund', as it's known, is a corner of Fifty Fathoms history that's not often discussed, as there aren't many and they rarely surface, the last of the issued FF. The German Bundeswehr had previously issued the OG Fifty Fathoms to its divers, but in the 1970s required an update to their specification and so commissioned Blancpain. This Fifty Fathoms was issued in tiny numbers to the Bundeswehr frogmen only and never available for public sale. At this point in their Navy, German divers were using closed circuit rebreather systems that offered huge dive times, so only hours need be measured. Hence, it is the only Fifty Fathoms with a 'sterile' bakelite bezel. The 3H on the dial complied with mil standard then to indicate tritium. The case was altered to make the crown more robust, recessed and offset to stop wrist-digging at 4, and 41mm with fixed springbars, manufactured by Von Buren.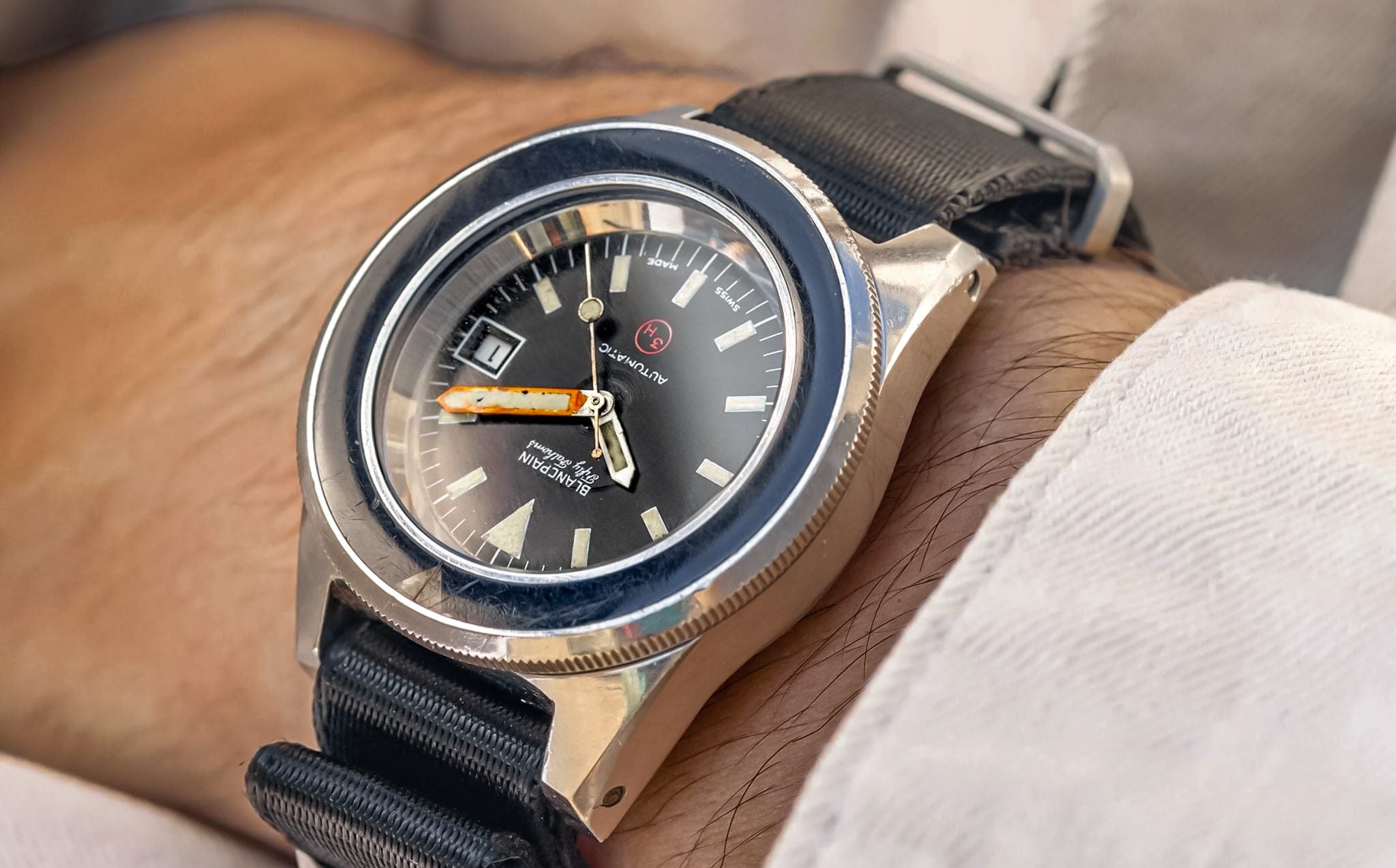 Interestingly, the original tritium on these has always had a 'white-ish' tone, more than cream. In order to be kept in service, many were relumed in period so its not uncommon to find mint-tones, but the factory finish looks like this. The aesthetic, and history, of these is purely utilitarian. Here's where things get fun and speculative; production remains unknown, but I've heard estimates from 250-500 originally. Most seem to agree that fewer than 100 survive today, and the market would indicate this as the number that show up for sale each year can usually be counted on one hand. To use the technical parlance, they're all beat to fuck. But then some of us like it rough.
And now we get to condition. In short, this watch is original but, indeed, used properly. The case is worn hard, likely not polished but all the edges have seen hard wear and there are a few bashes. The extends to the bezel, where the bakelite has the signature crack at 12, which a majority do (the bakelite was weaker there due to manufacturing with space for lume below). The caseback engravings are still quite visible relative to many examples. Its dial has a few handstrikes, but clear and present factory tritium with most printing preserved. A little of the automatic signature has gone. That factory tritium is great in the plots, starting to fall a little in the hands. I'd probably stabilize it and then continue to wear the hell out of it. This one deserves more 'love'. It comes from a well-regarded Dutch retailer.