For every modern run of the mill Aquatimer you'd only try on while waiting for a flight at the IWC boutique in Frankfurt, there is one which is incredibly interesting. The line has endured a massive degree of stochastic randomness with respect to greatness. Yes, many of the less thoughtful ones feel like a marketing exercise to fill out a product portfolio. Remember Coke Zero? When that came out I thought, isn't that just what Diet Coke is? I still don't know the difference to this day and refuse to Google it because it's a dumb idea. The Aquatimer line has that problem. But for every blocky modern Aquatimer Chrono, there is an equal and opposite force of excellence somewhere in IWC history: the immensely capable integrated Ocean 2000, Deep One and Deep Two with their wild mechanical depth gauges, or titanium 3536 with its ingenious spring-loaded bezel design. This ref. 1812 is the genesis of all Aquatimers . . .but the great ones in particular.
The original 812 is a deeply austere take on the practical diver. IWC took their cal 8541 with its Pellaton winding mechanism from the Ingenieur, modified a 37mm super compressor case courtesy of Enicar, and went to town. There's something about its dial which is vaguely tuxedo-adjacent but with more practicality. Its signed dual fish crowns are uber-cool and the whole package just feels like they got it right from the start. Production numbers of this first generation Aquatimer were low, but not recorded. They were produced under references 812 and later 1812. There were many dial variations, both all-black and all-white, white-circled black, and its inverse. This is a latter production example marked out by an applied IWC above a longhand signature, dating to '69. Think of it really as Bauhaus black-tie over a wetsuit.
And this example is a dream, we hear the story often but this really is a full set that's been sitting in a safe. It comes from the son of a collector who bought it whilst a pilot for Lufthansa, but didn't wear it often. It's been sparsely worn since. That shows, it's one of the best examples we've seen. If you want to know how a perfectly aged original 1812 looks in 2023, this is your museum. And when we say full set: hang tag with serial, all the certificates and booklets, with both original Gay Freres bracelet and IWC tropic rubber.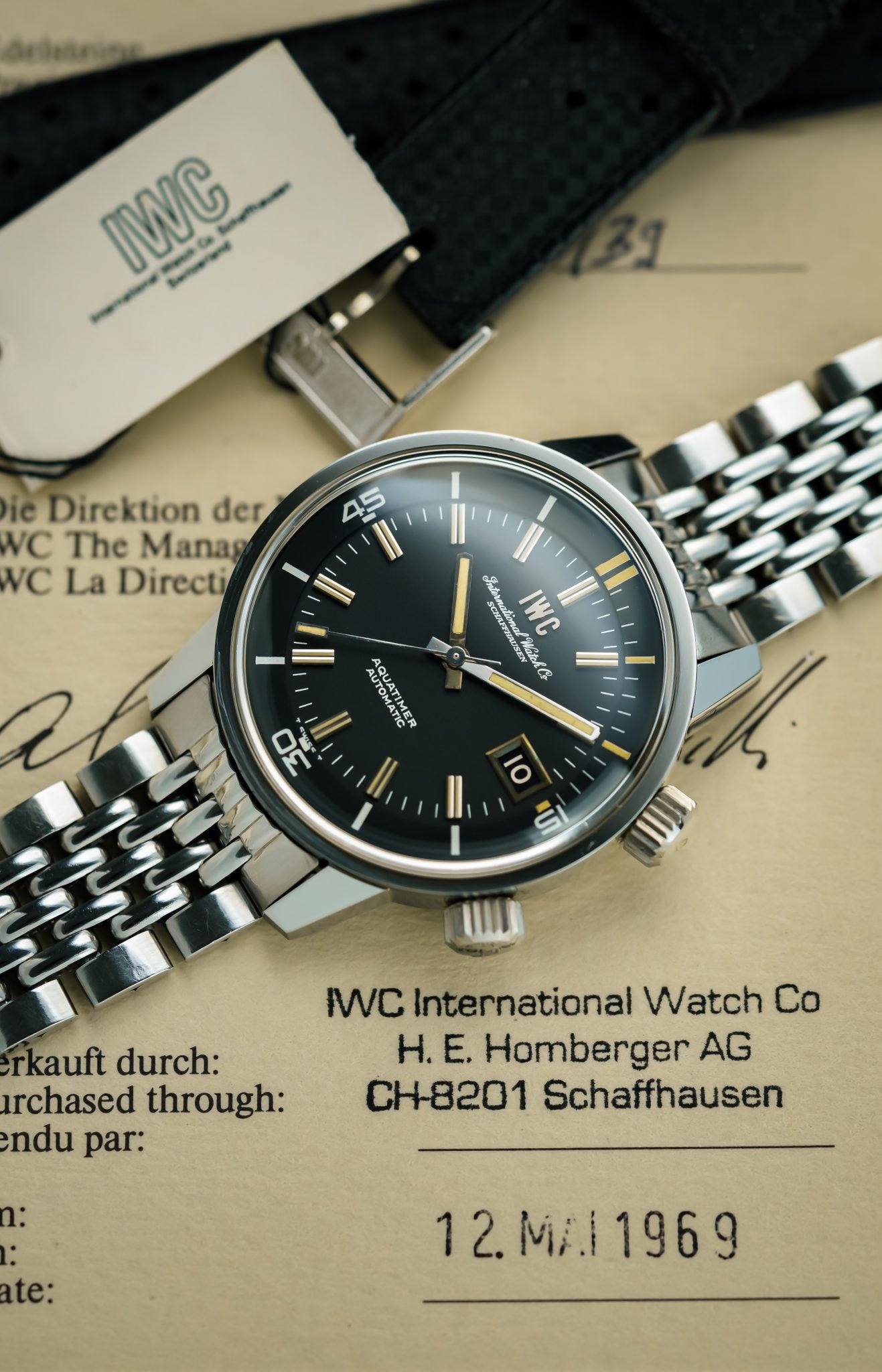 There is an entire sphere of watchmaking I enjoy deeply which falls under the heading 'forgotten-could-have-been-greats'. The 812 and 1812 represent an unashamedly brilliant start, both in aesthetics, proportion, technical calibre, and sheer unfussy practicality. A return to form would be welcome.
I normally comment on condition in this section but it's almost not worth it here. It's great, every detail is great, correct, unpolished case. It comes from a well-regarded German retailer.