1575 Cartier Santos-Dumont 90th Anniversary
Last week, John Mayer wrote an excellent short piece for the big H on 5 neo-vintage watches we ought to be paying attention to. I'm certain creating a list as concise as just five watches was a challenge. Nonetheless, I was surprised not see a single Cartier entrant. Therefore, as one topical honorable mention, I'd like to proffer a Santos that only rarely surfaces in the market. The exceptionally thin, beautifully detailed 90th Anniversary Santos-Dumont.
Released in 1994, this 1575 was limited to just 90 examples. Its case was just a hair larger than its vintage equivalent, measuring still only 36x27mm. Perfectly judged as a modern dress watch. The exposed screws set against its polished bezel are detail carried throughout generations, meant to echo the construction of the Eiffel tower. The most important measurement, however, was its thickness, measuring an astonishing 4.5mm tall overall. This, thanks to a manual Frédéric Piguet calibre 021MC, based on the 21. At the time, it was the thinnest watch movement on the market and boasted a 42 hour reserve, no less.
But Cartier is about design and the 90th Santos is largely distinguished by its exterior. There, we observe a warm salmon dial to underscore Cartier's vintage history. The case is full platinum, a cool tone which nicely contrasts that dial warmth. Cartier's heritage is again referenced in the Breguet handset, slanted Roman numerals, and sapphire cabochon. It is typically restrained and typically lovely. These come up for sale in low single digits every year and are a crowning jewel to any Cartier collection.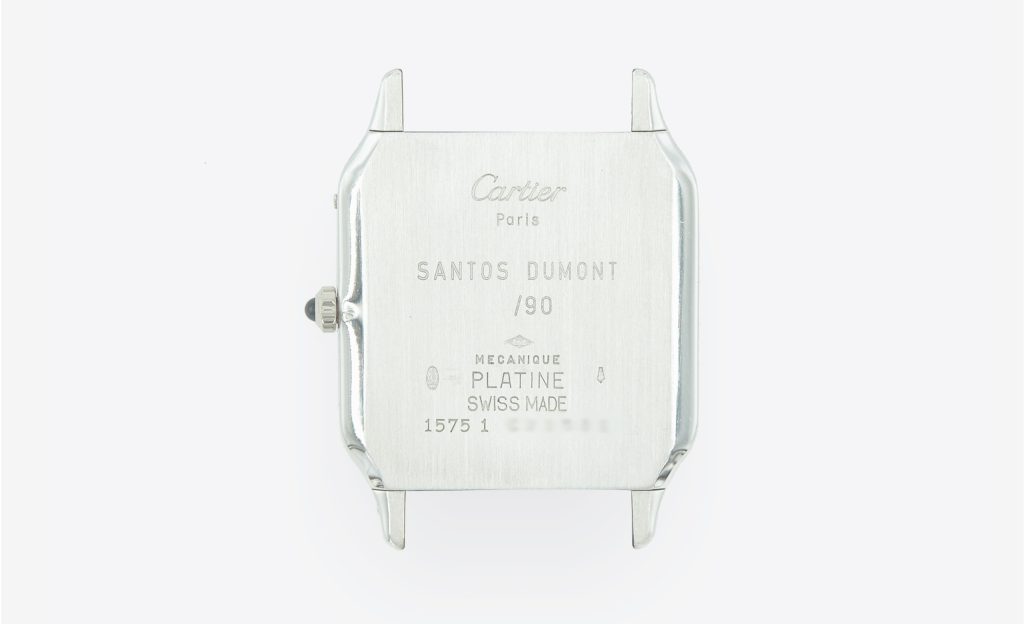 This example features a strong case with unabused lugs. There is a small scratch on its highly polished bezel around the 3:30 area. The dial is beautifully preserved with no visible wear. It comes from a well-regarded retailer in Shanghai as a naked watch.
Find this 90th Anniversary Santos-Dumont here from Woohoo Time for 51720 USD.