1530 Rolex Oyster Perpetual Date
This is not an Oysterquartz. Many of you will be unfamiliar with the 1530; this is easily forgiven. The reference is not on John Mayers wrist, Hodinkee haven't done a reference points covering it, and its story is one which requires a deep understanding of Rolex. If you've always lusted after the harshly angular, integrated Oysterquartz case but prefer mechanical movements, there is an answer to your prayers. Yes, this beauty is running Rolex's automatic calibre 1570. Moreover, as the 1530 was effectively the result of accidental over-ambition, it was produced in just 1500 examples. And somehow, enthusiasts still don't seem to talk much about it.
Yes, Rolex occasionally do make a mistakes, about one per decade. However, they're not all 'double 9' dials or 'Error Print' 16710s. This misstep, if you can call it that, was a result of Rolex's most uncertain era. To face the quartz crisis head-on, Rolex had decided in 1972 to develop their own revolutionary calibre and not rely on the Beta 21. That monumental project, the Oysterquartz, took a humbling, unexpectedly lengthy, and expensive five years. However, a few years into the project, Rolex had already designed and produced the perfect case for this groundbreaking calibre.
Instead of simply waiting for the Oysterquartz to be finished at some uncertain time, Rolex decided to combine this new angular 36mm steel case with their dependable calibre 1570 for the interim. The result was this, the short-lived 1530; an Oysterquartz case with an automatic calibre. Its run lasted from just 1975 until 1977, making it one of the shortest runs ever by some margin. Moreover, these dials vary from the 17000 Oysterquartz considerably. Both in their steeply inclined minute track and dial finish. Many of the 1530's dials had a tendency to turn a light yellow over time. Where this isn't quite a panna or cream dial, I think lemon may be an appropriate adjective. Characterful patina, robust story, integrated cases, mechanical watchmaking, and all still relatively unsung. This is the kind of thing we're all here for, or at least I am.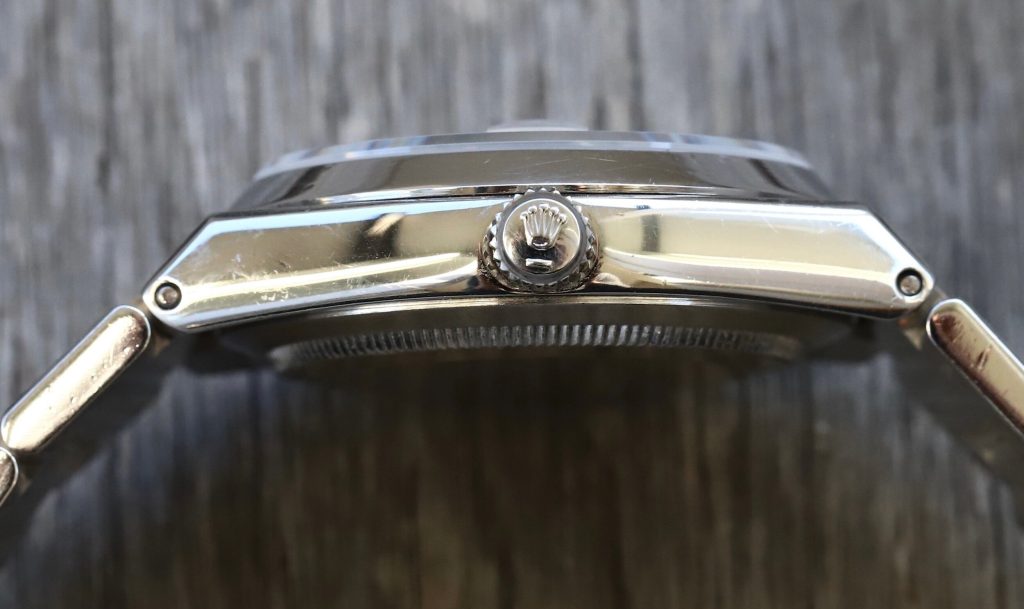 This example sports a brilliantly sharp case with strong bevels. Its dial is lovely with a lemon-champagne tone. There is small tritium loss on the 6 pip. Its handset is perfect and the tritium tones are matched. The movement has been recently serviced and its running well. It comes on an original 17000 bracelet dating to 1977 without box/papers from a well-regarded retailer.
Find this 1530 here from Watch Vault 19250 USD.