14800TR Audemars Piguet Tantalum Royal Oak
To me, John Krasinski will always be the guy from The Office: affable, mild-mannered, agreeable. But have you seen his recent work? Some time around 2014, he hit what I call the Hollywood second puberty. Then came the traditional Men's Health magazine cover, a 13 Hours of Benghazi role, and Jack Ryan (which would've been better named John's Jacked). I can't get used to it either. But it's worth remembering that pigeonholing is always poor form, we are all continually free to reinvent ourselves as we see fit. Except for me, I'll always be a cynical, sarcastic, depressively spiraling watch addict. But I'm not old and entrenched, I'm just neo-vintage.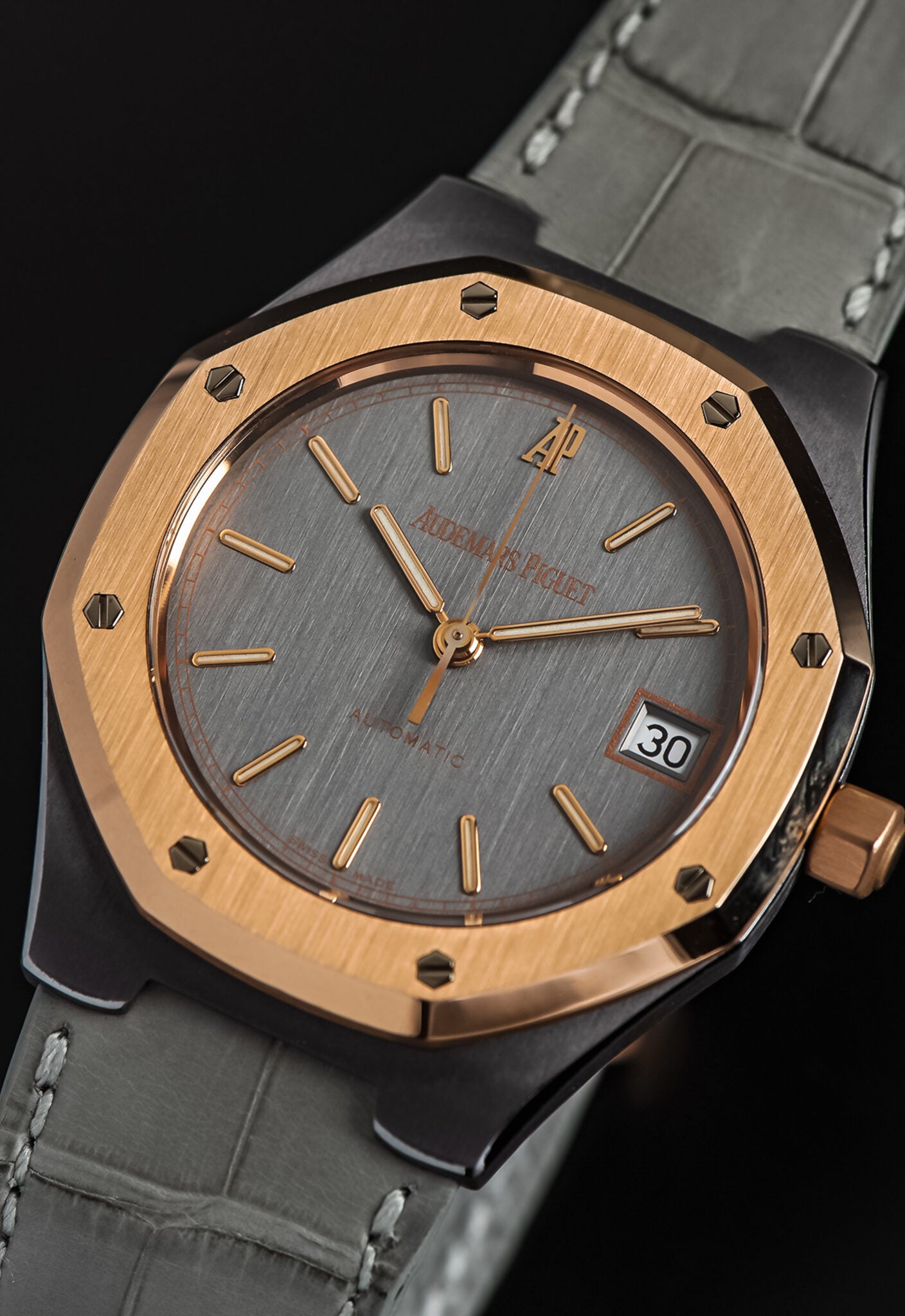 All of which brings me to the 14800TR. If you're not used to seeing TR after an AP reference, I'm not either. It stands for tantalum and rose gold, a pairing which has only appeared on a handful of models. Most are quartz, but this one isn't. The 14800 bit? That's the midsized strap-specific case design. Tantalum is tricky, finicky, and gums up most machines. It's heavy, frankly a bitch for watchmakers, but it never scratches. Therefore, it makes little sense to then give all that effort a rose gold bezel, which will. It defeats the whole purpose. In fact, none of this makes any sense. It's not really Genta; the point of a Royal Oak is its design, without the bracelet it's kind of just an Oak. It's not really even known outside the most dedicated AP collectors. But the funny thing about the Royal Oak is that even when it tries very, very hard to not be a Royal Oak, it somehow works even better. Like our old pal John Jacked.
The Royal Oak is such an (pardon use of the cliche, if any watch deserves it) iconic design that I can't imagine AP risking a design like this for the first time these days. But you don't get accidental brilliance without being willing to risk abject failure. This came close, but I have to say it's one of the most attractive midsized ROs I've ever seen, and I'm totally unable to rationalize why. I can only say that it reminds me of a quote from Sir Richard Branson, which is trite but true, 'It's never too late to be what you might have been.' It's a RO from a time when AP wasn't afraid to alter the recipe thoughtfully, which is what's needed in so much of watchmaking today. Now, I just said it makes no sense. What's thoughtful here? It's all in the clasp. It happens to have what I still hold to be one of the best clasps ever, a half-Royal Oak bezel finished in kind that's been artful interpreted into a rose gold buckle. And the level of satisfaction I derive from that does really prove I'm spiraling. Send help. Or 14800TRs. 
This example, fortunately, has a fantastic bezel with not much to note. I wouldn't expect that to normally be the case and most I've seen aren't. The dial is well-preserved, and all tritium appears present and cream in tone (yes this is a tritium dial). It comes as watch only from a well-regarded London retailer. The custom strap they've chosen is ace.