130th Anniversary 'First' Grand Seiko SBGW033
It is not difficult to understand the timeless appeal of a well-executed dress watch. When complication is removed, effort in finishing is allowed to be a watch's main focus. Total simplicity, finished to an absurd standard. I believe this appeal is, in large part, responsible for the recent astronomic rise in Chronomètre Bleu values of the last few years. The antidote? A Grand Seiko largely forgotten to the stream of time. A Grand Seiko that foreran the marque's massive push upmarket. A Grand Seiko that set out to prove everything that Grand Seiko could be: the SBGW033 (catchy right? I hate their reference system as much as you do).
The Grand Seiko First (ref 3180) was the first ever to present its name at 12, with no reference to parent company included. That tradition folded short thereafter, along with King Seiko. It would not return en masse until the also-largely-forgotten 2016 SBGR305. However, in the interim, Seiko celebrated their 130th as an entity by releasing a watch that was to be a straightforward reissue of the 1960 Suwa Seikosha. This was the reintroduction of Grand Seiko as a standalone on the dial at 12, a brave move that precipitate their upward trajectory.
In recent years, Grand Seiko has not been one to shy away from a limited release. They've re-re-issued this watch in 2017. Head hurting yet? Just remember this. This original reissue 2011 model is true-to-form with a 36mm steel case. The 2017 swelled to 38. This generation features a raised GS logo, S-signed crown, lion-medallion back, steel case, and calibre 9S64. Eggshell dial, blued steel handset. It is a thing of undeniable grace and beauty. The watch was limited to an Omega-approved production of 1300.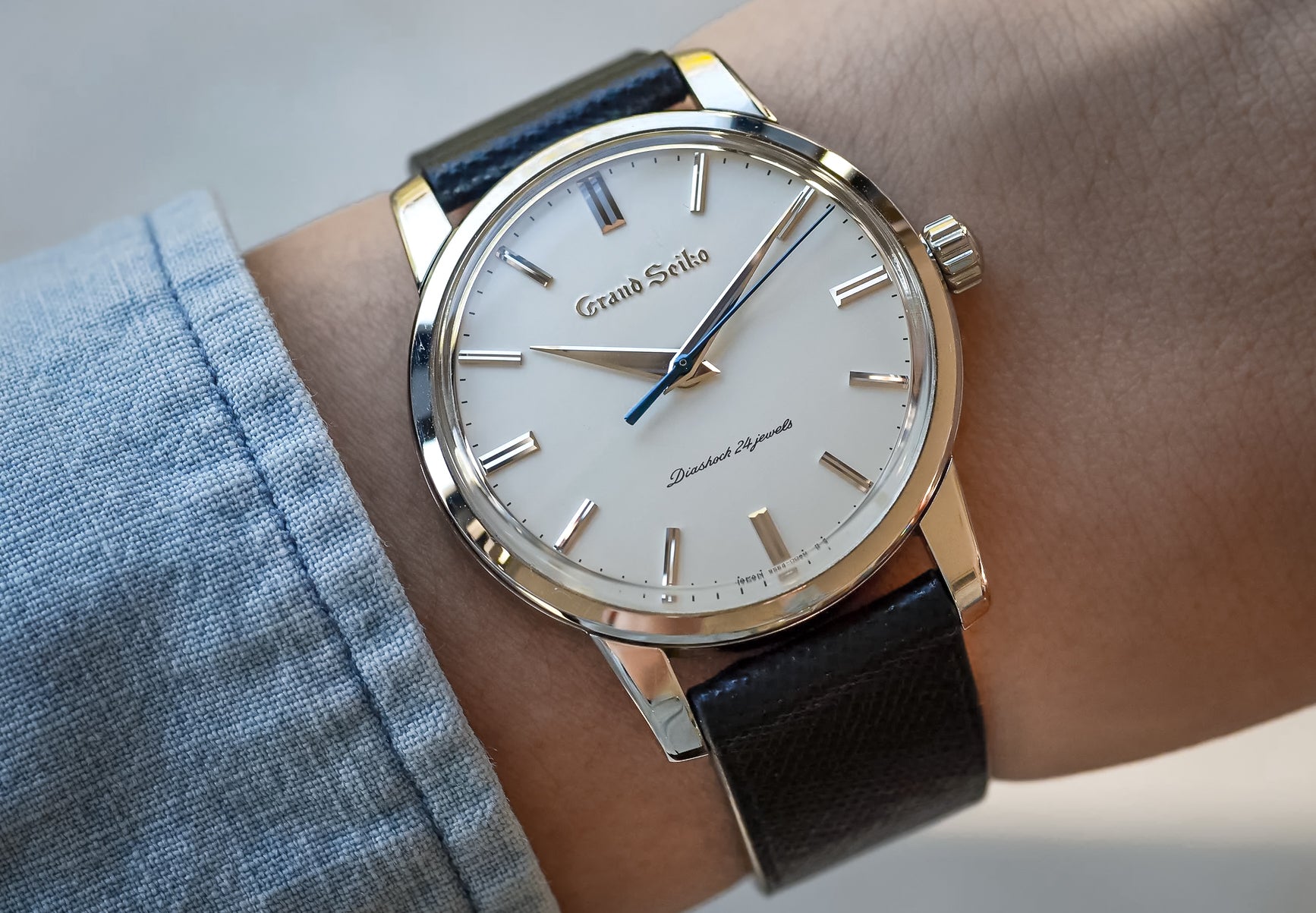 This example presents a strong overall condition. The dial and handset are unaged. Its case has full lug proportion and bevel, but has seen a light polish. The original buckle is included, but no box or papers. It has been recently serviced and is running well. It comes from a well-regarded small Japanese retailer.
Find this SBGW033 here from Special Dial for 8625 USD.