12295 Universal Genève Tri-Compax
Post WWII, the Tri-Compax was it. Introduced at Baselworld 1944, the triple-complication (it's often mistakenly assumed that "tri-compax" refers to the triple chronograph sub dial configuration) aviator's offering was every bit as stylish as it was complicated. There aren't many designs which feel perfect nearly a century on, this is one of them. In fact, as wristwatches go, I suspect in the year 2060 it will be just this, the Speedmaster, Daytona, early Carrera, and, in a more similar vein to this, a 2499 or 1518, depending on which camp you're in. Honorable mention to VC's 4178. That's illustrious company, but somehow the Universal is markedly less dear than anything else on that list despite being the second most complicated, a full calendar, moonphase chronograph.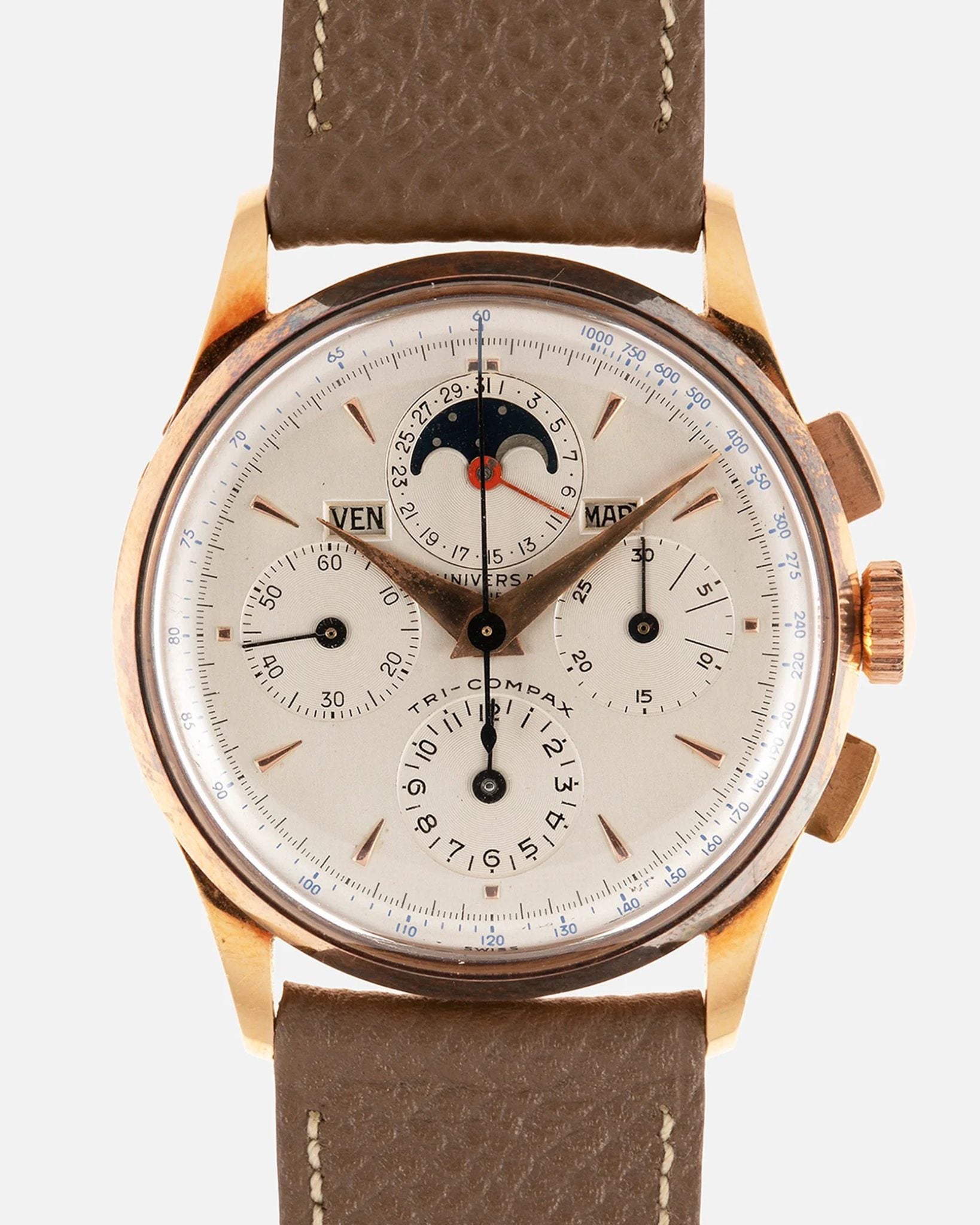 This 12295 is one of the earliest in a long line of Tri-Compaxes, dating to the early '50s. The quad-register design manages to convey a wealth of information without feeling remotely cluttered, a tricky many have failed at. It's also a non-luminous dial, which not all are. That means there's no radium burn, no fallen through tritium, and a clean soft-creamy dial. Its 35mm uses an early 18k yellow gold alloy, which has seen a heavy patina develop on the bezel. It's a divisive look which I've grown to love on many cases.
No one really buys a Universal Genève as their first watch, definitely not a vintage Tri-Compax. No one really buys a Universal Genève to flex, except if you're part of a very small crowd. They are watches you buy to impress yourself, watches which mean something only to people who know their subject matter. If I see someone sporting a vintage UG, as a rule I will begin a conversation with them, including crossing a busy street. Universal Genève unites enthusiasts, and I do wonder if a part of that is because they are no longer. Not just because of the romance that creates, but the fact that no one is profiteering off our collective love. The star that burns twice as bright burns half as long.
The case here is lovely, full, worn, patinated. That patina is beginning to develop on the hands as well. Its dial is extremely clean, I do wonder if there's been a restoration but if so incredibly sympathetic. I'm fine with it either way. It comes from a well-regarded Malaysian retailer.