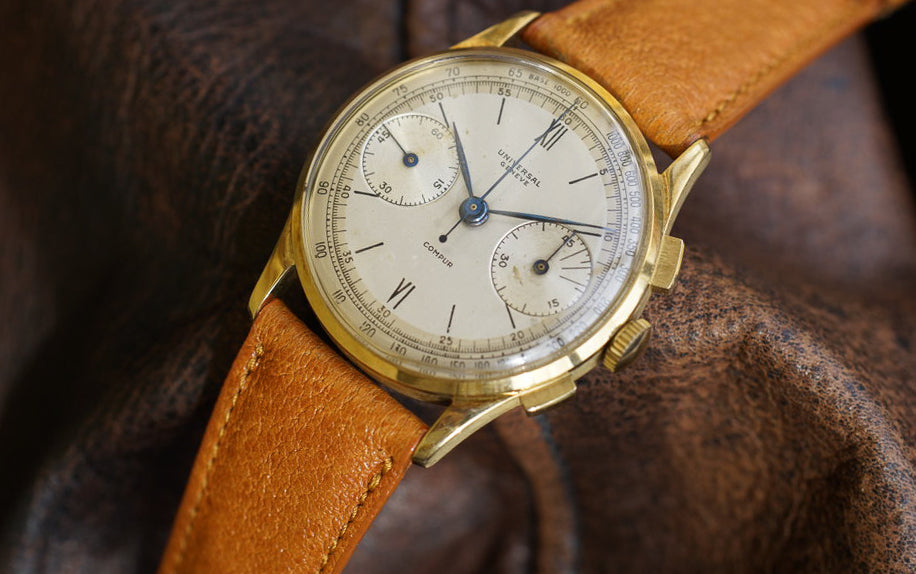 Universal Genève Compur R12445
After having recently featured Universal's international variant, it seems timely that a lovely example of the genuine article is now on offer. This Compur, which later became the Compax, was a chronograph contemporary of Patek's 130 and VC's 4072. Neither of those chronographs are exactly unattractive. The same goes for this two-register gold Compur, a wartime design that has aged about as gracefully as the majestic Spitfire.
The Compax is famed, but before the Compax was this. If UG was ever famous for anything (pre-Polerouter) it was their chronographs. It's nice to become acquainted with that genesis. UG first developed pocket watches and were perfectly positioned to begin volume manufacture of wristwatches when the WW2 struck. Attention was gained through pilots favouring their Compax designs, pushing them to commercial success once war ceased. Latter famed chronograph iterations like the Nina Rindt and Eric Clapton all derived here. Despite the importance, the Compur isn't really hugely famous. A comparable VC 4072 will set you back a down payment on a house. I'm not certain as this Compur is POA, but I'd be willing to be the ask is a little less.
Components and dials range widely in early Compur designs. This one features Roman numerals, blued steel hands, and square pushers in a 14K YG case. The condition is really quite strong given the age and type of use these were designed for. The dial is still highly legible, case strong. It comes from a well-regarded retailer, no mention of service history but the movement looks clean.
Find this Compur here from Avocado Vintage Watches for an undisclosed sum.