Patek Philippe 3587 Beta 21
Some watches are undeniably beautiful. Others serve a specific purpose. Some watches are an artful celebration of mechanics. Others, however, are just fucking strange. The Patek Philippe back catalogue is nearly unrivaled in its nuance. Buried behind the 5711s, 1518s, 3417s, and 1563s are some more distinct references that time has passed by. Among them is Patek's take on the conglomerate-designed, false-Swiss-savior Beta 21 movement: the 3587.
No period of time could be said to have been more influential to modern watchmaking than the quartz crisis. To put it lightly, Switzerland though it was all over. Hundreds of years of tradition and expertise in watchmaking was about to be lost to modern technology. So, rather than sit back and watch Seiko decimate their industry, the Swiss decided to fight back with a high-end quartz calibre all their own: the infamous Beta 21. It was so-named 21 for the twenty-one Swiss companies who collectively contributed to its design (including Omega, Rolex, Patek, Piaget, and others). The movement was to be decidedly robust, upmarket, mechanical where possible, and was to derive extreme accuracy from quartz technology. It was headlined by a deadly accuracy of five seconds deviation per month. It was also a monumental failure. The extreme expense of the movement could not be squared with an ultimately quartz-powered drivetrain in the consumer conscious. Fewer than 6000 movements are thought to have been produced in total.
Patek, being Patek, made their take on the Beta 21 spectacular. Finding the Beta 21's jumping seconds hand too jarring, the consummately Swiss marque modified its frequency (quartz beat-rate analog) from 8192 Hz to 256 Hz. This resulted in a smooth (ish) seconds hand sweep meant to recall the motion of their other mechanic calibres. The watch's execution is a testament to Patek's commitment to only produce the best they are capable of. It also makes an extremely unique noise when operating. For further reading and detail on Patek's quartz efforts, I'll defer to the legendary John Reardon.
Era and movement aside, the case of this thing is equally outrageous at 41mm and 11.5mm depth. The style is mildly rectangular tonneau-TV if that's even remotely helpful. The crystal is plexi and the dial radially finished blue. That case also features a remarkably robust and unique 18K gold bracelet with a design not seen often. It is truly deserving of its moniker: the 'Swiss cheese'.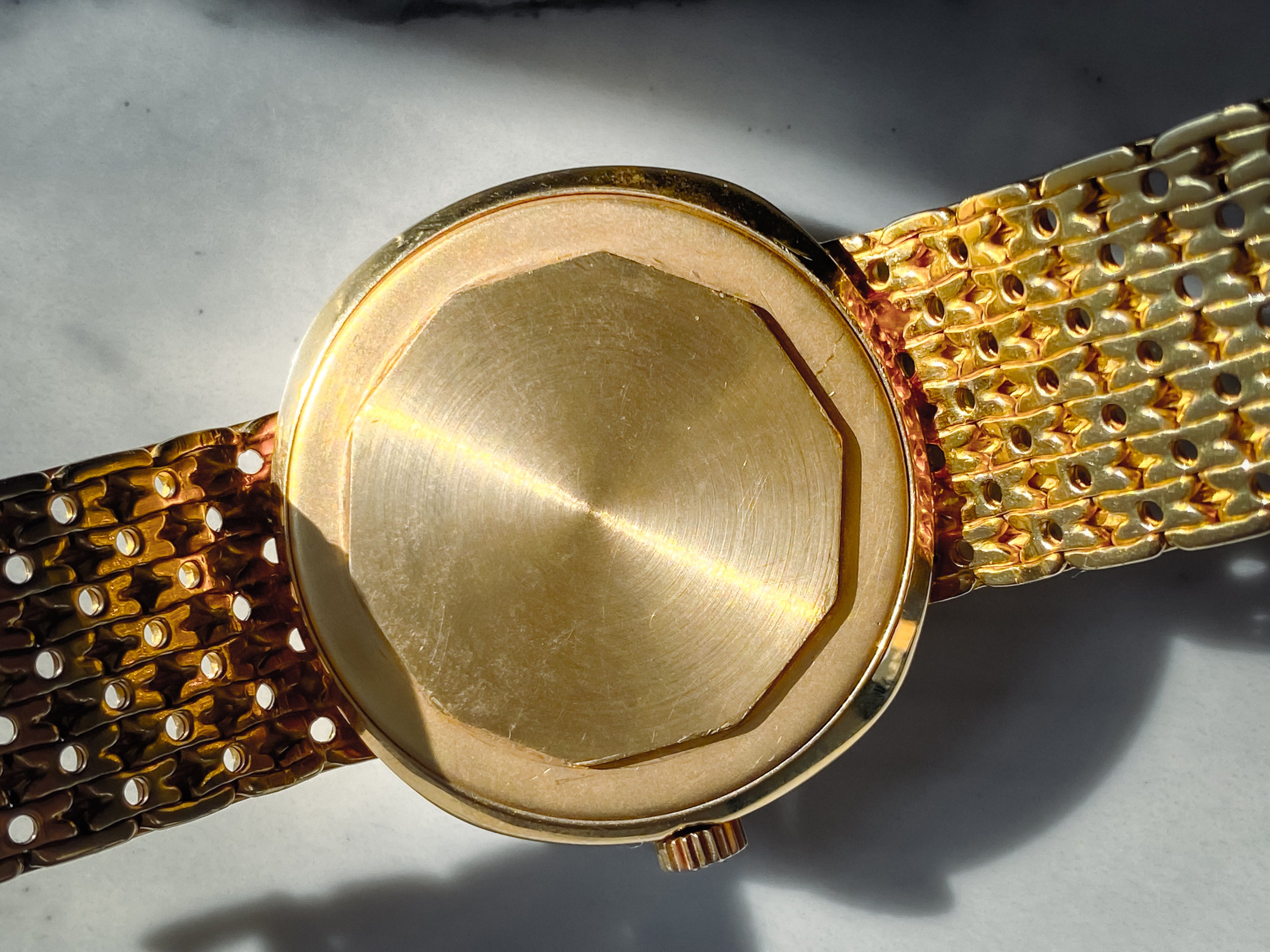 This example is something of a standout. The gold alloy sports light surface wear across most surfaces, consistent with age and use, and is unpolished. Hallmarks are present. The bracelet appears in good nick, clasp not pictured. The dial and handset are both lovely, only just faded. Tritium is close enough to me to consider this handset matched although not quite even. Its crown is correct as is the date wheel. It comes from a private collector who is about as insane as you would expect, given the watch: one Mr Toledano.
Find this 3587 available here from @misterenthusiast by DM on Instagram for 43K USD.