One Unreal Heuer Carrera 3647ST
The 3647 Heuer Carrera is a piece which needs nothing additionally said about it. The legacy of Jack Heuer's leadership and his Formula 1 affiliations speak for themselves. The simple, legible design and accuracy of its Valjoux made a perfect pairing for a golden era of F1. The immediate success of the Carrera should be no big surprise. Heuer collecting is a relatively new discipline when compared to the vintage chronograph world as a whole. Oh, how we should have been paying attention. 
1963 saw the introduction of both the Daytona and three-register 2447 Carrera. This two-register 3647, called the Carrera 45 colloquially, followed shortly thereafter. The reference has a stunning simplicity not often seen in that era. The plexi crystal, tritium indices, and beaded bracelet create additional vintage charm. This particular 3647ST, as opposed to the 3647S, features a desirable red tachyscale. Both run a bulletproof Valjoux 92, a movement which has enjoyed surprising longevity if properly cared for. If this Heuer is your type of watch, there's nothing not to like.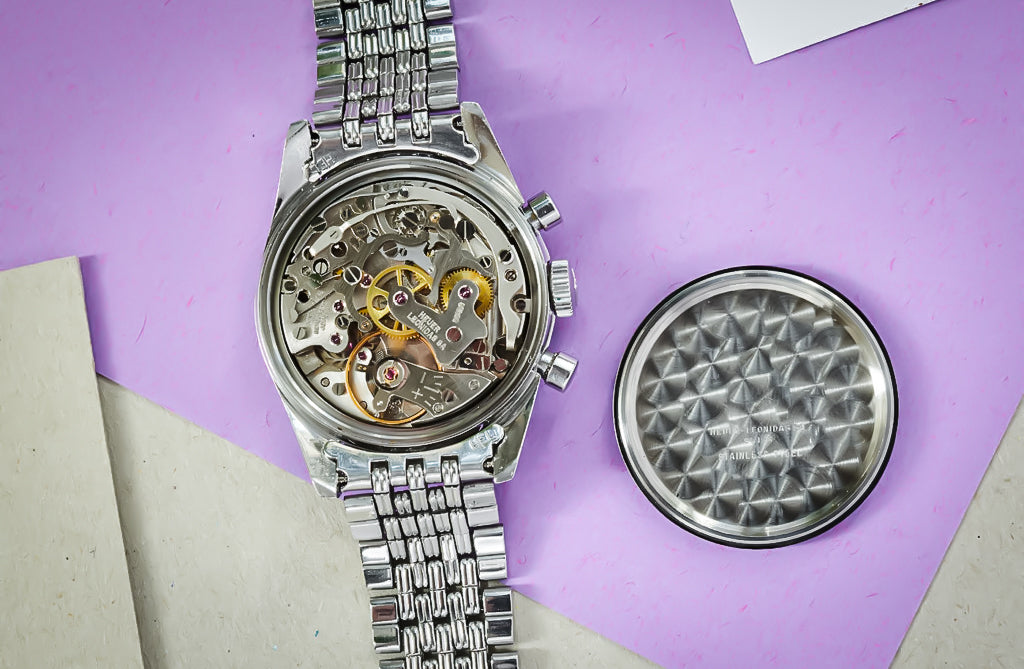 I let a 3647 go five years ago. I regret it to this day. That said, this example is remarkably better aged than mine was; that is to say barely aged. The watch is completely original with a visible serial. Its pushers, crown, crystal, hands, and dial are all correct. The Valjoux 92 looks impeccable when opened. Even the original Gay Freres bracelet shows remarkably little weathering. On the whole, this is the kind of example you'd dream of. It comes from reputable German retailer Rarebirds. Their inventory tends to shift quite quickly, as they specialize in the very best examples. Keep that in mind. All told, a beautiful example of a very attractive chronograph.
Find this Carrera here from Rarebirds on offer at 8880 EUR.