'Desert Eagle' 6263 Rolex Daytona
Imagine being invited into Jean-Frederic Dufour's palatial office, sitting in some absurdly sumptuous modern leather chair, and asking him if he might be able to remove the name 'Rolex' from his dial for you. Just a few pieces, of course. You think asking an AD for ceramic Daytona is implausible? I suspect Mr. Dufour would be too polite to openly laugh in your face, as many ADs have been accused, but I do not think the proposition would be well-received. And yet, somehow in the early 70s, this actually happened.
But not for just anyone. Sheikh Mohammed bin Rashid Al Maktoum holds the title Absolute Ruler of Dubai and Prime Minister of the UAE, the former of which is fittingly autocratic. Hewas, at the time, Minister of Defence of the newly formed UAE. In the 70s, it was not uncommon for UAE military defense or police forces to special order a small run of Rolexes, swimming in oily cash as they were. Rolex watches were the favored gifts of those higher up in government, both to their employees and friends.
However, most of these runs simply had emblems stamped at the 6 of an Oyster Precision, DD/DJ, or the odd GMT. This was not quite good enough for the Minister himself, who had the taste to go 6263 Daytona. The order of Cosmographs which went to the top of the MoD had an extreme level of customization, both replacing 'Rolex' with the'Quraysh Hawk' UAE Coat of Arms in polychromatic enamel at 12 and adding the MoD's signature above 6. To round out the fittingly egotistic affair, the Hawk's talons rest on the Emir's own signature.
Only a handful of examples are known, all with serial numbers in a tight range (as in last-two-digits-close). One sold by Phillips in 2016 for 605K CHF. Then another in 2018 for 324K CHF. Yet another went through Monaco Legends in 2019 with a 266K EUR hammer. Why the disparity? I would suggest two hypothesis: first, condition. The first through the gates was the better example. Second, that initial high sale has pulled further examples out of the collector woodwork since, I have heard of two examples trading hands privately. There is slight controversy about the dial presented in this example, as it lacks a sigma signature. This is absolutely an authentic Rolex dial, but some have suggested that these non-sigma dials were produced as service spares and sold with the watches as backup, that all dials original to 'Desert Eagle' 6263s should be sigma signed. Others have argued vehemently that this is not the case. As many things in vintage Rolex, the truth may never be known. What is certain is that this is a once-every-few-years Cosmograph, in stellar shape, which would be a crowning jewel to any Rolex collection. And the serial is said to check out.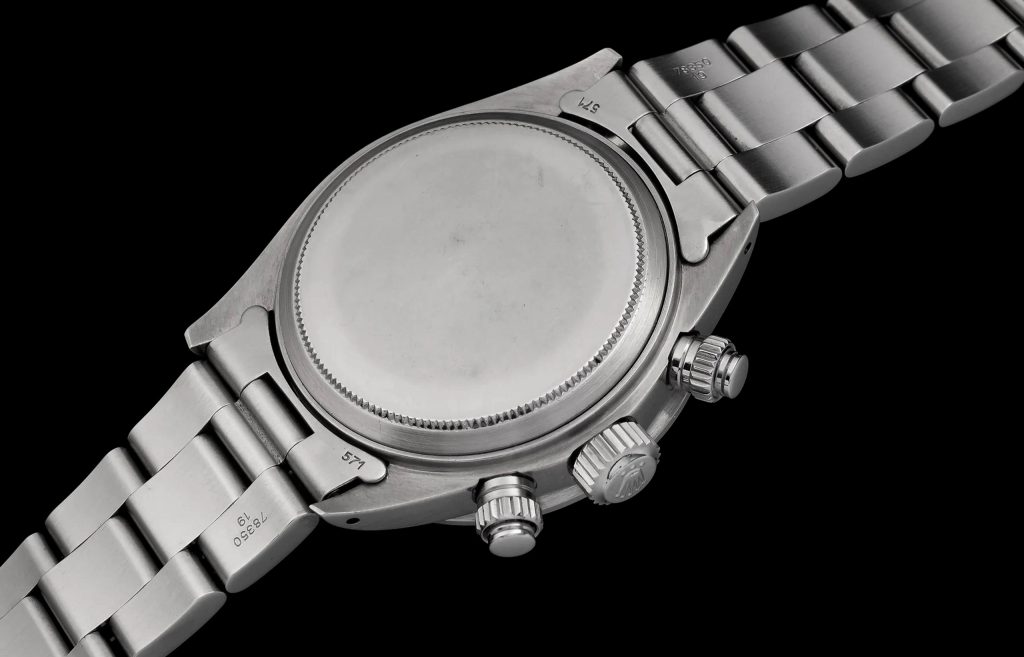 As for the case, it's great. I see sharp edges and moderate surface wear, matched in the bracelet. Its tritium applications are a gold tone, as often seen on watches that have spent years in Middle Eastern sun. The all important enamel work is beautifully preserved, nothing out of place in either signature. This is a dream watch, sigmas or not. It comes from a well-regarded Monegasque retailer.
Find this Desert Eagle 6263 here from Corrado Mattarelli listed as POA.